Building an Algorithm Tool


With the Building an Algorithm Tool you ask ethical questions during the entire AI process: the design, development, test phase and implementation of the AI application.

The Center for Democracy & Technology is a non-profit organization with headquarters in Washington and a branch office in Brussels. The center aims to find solutions to pressing internet policy problems.
What you should know before reading further:
Process phase: Design phase, development, implementation, evaluation and iteration
System component: Data processing, AI tool, context and users
Price: freely available
Method
Because the tool is divided into 4 development phases, you can view each part during the applicable phase. No preparation is necessary for this.
The tool is divided into 4 parts, important ethical principles have been introduced for each part. For example, attention is drawn to equality and representation during the design phase, and uneven impact during implementation. The tool consists of questions or assignments that you can provide guidance while developing your AI system.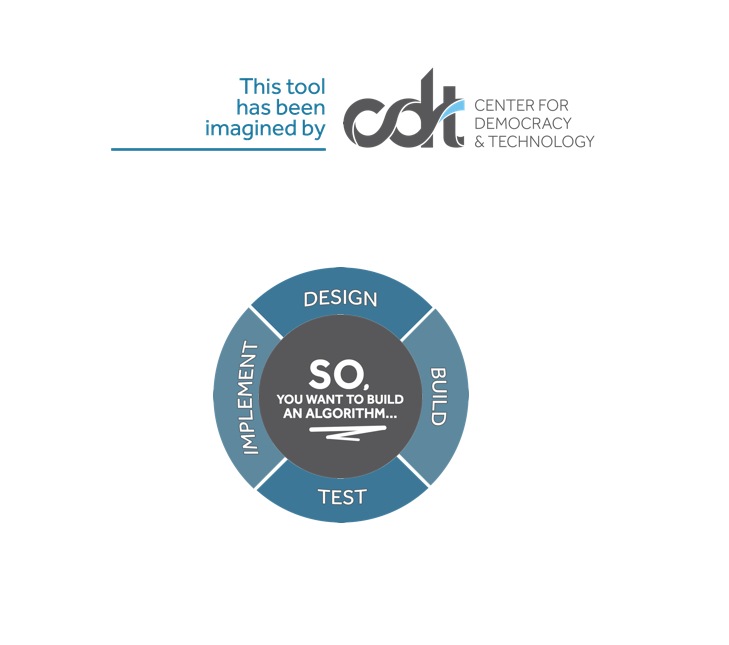 Result

The result of this tool is ideally an AI system that was adjusted at every stage based on the questions. You can also document which steps you have taken using the tool. However, there is no template available and you can better use the tool as a guide for including important ethical principles.
Waarden zoals benoemd
in de tool
Gerelateerde
ALTAI-principes

Diversity, Non-discrimination & Fairness

Environmental & Societal wellbeing

voorkomen schadelijke resultaten

Technical robustness & Safety
The following ethical principles apply:
prevent injustice, discriminatory or harmful results
This tool was not developed by the Knowledge Center Data & Society. We describe the tool on our website because it can help you deal with ethical, legal or social aspects of AI applications. The Knowledge Center is not responsible for the quality of the tool.